Rickshaw Project, Espace Public, Kathmandu, 2010

Planet Nepal, A Festival of Arts and Environment
Patan Durbar Square, 29 - 31 October, 2010
This mega-event included artworks, performances, happenings, live music, drive-around of rickshaw in Kathmandu Valley for a week culminating in display of artworks at the Patan Durbar Square, Patan Museum and the exhibition at Kathmandu Contemporary Art Center (2 Nov. - 10 Nov. 2010). The work puncture was part of this event.
The work 'Puncture' emerged from the conception of the Mega Event, "Planet Nepal, A Festival of Arts and Environment" organized by French Cultural Centre, Kathmandu; Nepal. It was one of the three rickshaws made within the project Espace Public. The other two rickshaws were made by artists Sujan Chitrakar and Om Khattri.

The work Puncture is a functional modified hybrid version of three-wheeled Rickshaw that was taken around Kathmandu valley for more than a weak. A number of discarded; old and worn out, second hand tires have been used to create a functional mobile rickshaw. Tubes are only used for the assemblage, bonding, and for making of the motifs for embellishment purposes. Different construction, fusion and assemblage strategy like jolting, layering, cutting, welding, heaping, sticking, weaving etc. are brought in use. The manipulated version of the rickshaws is 'functional' and 'mobile'. However, some elements are improvised, altered, added or subtracted to enhance the narrative of the work. The 'reconstructed' rickshaw looks like an old aged rickshaw, half animal (insect) and half vehicle, that is completely covered with dust, smoke and soil as it is made out of second hand old tires. Subjectively, it may ignite one's imagination into thinking that the rickshaw just shredded it usual wood/metal skin and magically switched into its magical skin of tires. I presume that it also look like a black sinister coming straight out of a charcoal factory or a furnace.

Tires are often indispensable element of any vehicle. Its functional and practical aspect often undermines the fact that it is made out of rubber, a pollutant and 'toxic' substance when burnt and emanated on air. The tires not only remind us of its relation to/with travel, transport or road but also its relationship to the environment. Therefore, this irony within tires itself is a very interesting point of reference for me. The question of the recycle of tires is potent. People in Nepal use tires for different purposes. People use it for efficient burning of corpses, politician burn tires to obstruct traffic and fulfill demands; some people even use them as weights on their roofs. Schools and circuses use it for games. When I use tires as material, I am attempting an extension of the re-use of tires. The aim is to reuse, but to use it intently for artistic reasons, to demand public curiosity and to arouse ecological questions in public minds.
Materials: Rickshaw's modified skeleton; old, used and second-hand bicycle tires and tubes, rivets, shoe eyelets, nails, metal armature (various thicknesses), polychloroprene adhesive.

Puncture, along with other two transformed conceptual artistic mobile Rickshaws, was circulated around the Kathmandu valley for more than a week. The aim was to encounter the public and engage them in dialogue pertaining to environmental issues. Pamphlets and printed information were given out. During the Festival, the 3 rickshaws were put together not only as a Installation but also were used as points of information and education.
Planet Nepal – A Festival of Arts and Environment
Events & Exhibitions at Kathmandu Contemporary Art Center in co-operation
with Planet Nepal and Alliance Françause de Katmandou (2 - 10 November 2010).
Karl Knapp
The Recycled Buddha (Installation)
The Buddha Circle (Video Installation)

Rodolphe Huguet
Impermanence (Installation)

Sujan Chitrakar, Sajana Joshi & Om Khatri
Rickshaw Project (Installation)

Ashmina Ranjit
Indegeneous Modernities (Installation)

Nayantara Gurung Kakshapati
A Weathered People (Photo Exhibition)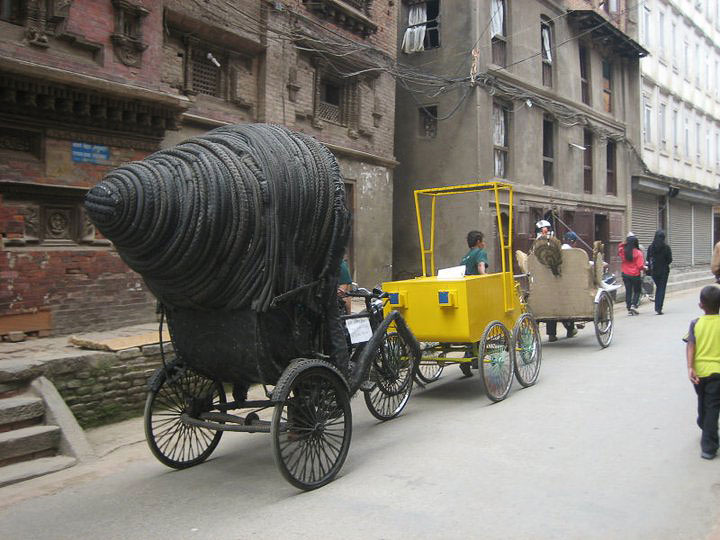 Rickshaws in Public & Exhibition Spaces
Image 1: Rickshaw Project
Sajana Joshi, Sujan Chitrakar (yellow coloured), Om Khatri (brown sack coloured) - [ from left to right ]

Image 2 & 3
Puncture circulated in public spaces in Kathmandu valley.

Image 4 & 5
Display views at Patan Durbar Square with rickshaw from Sujan Chitrakar

Image 6
Display view at Kathmandu Contemporary Art Center (KCAC) along with 'The Recycled Buddha" from Karl Knapp

Image Courtesy: Om Khatri, Sujan Chitrakar, and KCAC.
PLANET NEPAL Le film - Part 1
A film about "Planet Nepal - A Festival of Arts and Environment"
(See Rickshaw Projects at 3:40 minutes )
Filmmaker : Arnaud Le Borgne
Cameramen : Manod Shrestha, Arnaud Le Borgne, Romaine Lancaster.
Editing : Pikto Diffusion