Der falsche Körper (The Wrong Body)
The sculptural installation comprises of three primary sculptural components: nine human baby figures depicted in crawling-like posture, two tree branches and two food containers that are all entirely made out of treated goatskins and are not stuffed. These components are arranged inside a closed glass vitrine.
The baby figures are made out of the skin of a once living animal, yet is deceptive, in that it tricks viewer into believing that it is once again, or could be animate. The colour, patches, pattern and smell of goatskins render a very strong presence of the dead non-human animal. This dual presence of human and non-human animal creates a moment of ambiguity and non-recognition. It could refer to the human and to the animal, without itself being either human or animal, and without it being a direct representation of either.
Domesticated animals, feral children, so called freaks with a face entirely or partly covered with hair, and mythological or folkloric human with the ability to shape shift into a wolf are some of the examples where the borderline between human-like-animal and animal-like-human could be considered indistinct, traversing or in the mood of becoming. The crawling act of infant child and some four-legged non-human animals have similar resemblance of four-point crawling position. Coincidently, both young child of goat and human are called 'kid' in English Language context. The idea of multiplicity and pack is established through multiple baby figures depicted without any particular facial details and distinctiveness. Thus I attempt to blur the idea of human individuality as opposed to non-human animal that could be a 'specimen' in a form of taxidermy, for example, in a natural history museum. These correlations and references are part of my work that addresses the intimate yet paradoxical relationship between human and non-human animal.
I particularly refer to how non-human animals are staged in zoos and museums. Often in a zoo and in a habitat diorama non-human animals (alive and dead) are staged in an artificial and simulated world with plants, stones, rocks, hills, and tree braches as theatrical props. Hence they are dislocated from their natural habitat and are situated in the cultural context of Edutainment. In my Installation, there are human baby figures inside the vitrine instead of non-human animals. This wrongness, in my opinion, not only subverts the idea of zoo and museum displays but also provides a reflective space to think about gaze, objectification, and human attitude towards non-human animals.
Asia Contemporary Art Exhibition
Sept. 11 - Nov. 15, 2015, Jeonbuk Museum of Art, South Korea.
Installation Views
The Installation consists of following 4 sculptural components:
A. Nine human baby figures
B.Two casted or constructed food containers
C. Two constructed tree branches
D. A vitrine or show case

Details of each components are listed below:
Treated Goatskin, Hand-Stitched; 67 x 40 x 38 cm each (Length x Width x Height)
(not stuffed, no armature of any kind - hollow from inside)


Two Casted or Constructed Food Containers
Treated Goatskin, Hand-Stitched; 19.5 x 19.5 x 7 cm each (Length x Width x Height)
(not stuffed, no armature of any kind - hollow from inside)
Two Constructed Tree Branches
Treated Goatskin, Hand-Stitched; 188 x 72 x 50 cm (Length x Width x Height) - when folded.
(not stuffed, metal and flexible/bendable PVC pipes armature - hollow from inside)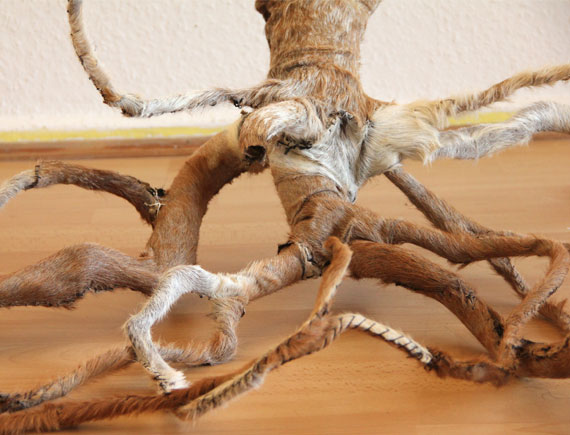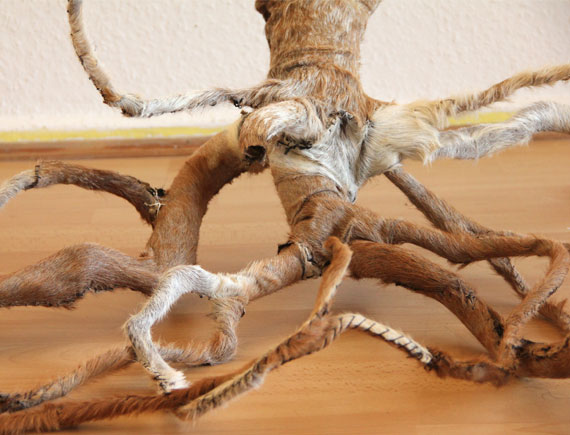 Installation Views - 2015, Institut für Künst im Kontext, UdK, Berlin.
Note: Tree branches and food containers are digitally inserted into the photograph of display view at Institut fuer Kuenst im Kontext, UdK, Berlin; 2015.
Asia Contemporary Art Exhibition 2015
ISBN 978-89-93767-29-2 93600
© Jeonbuk Museum of Art, 2015
(Sajana Joshi's profile/work images: Page 58-62)
Art in Asia
ISSN 1976-9210
(Sajana Joshi - Page 81)